UK Today News: Rescue Operations In Progress After Air India Plane Crash In Mangalore, India
Air India Plane Crash, Mangalore Crash, Air India Express: Trying to make way through the flames, a rescue worker could hear the screams of a passenger stuck in the inferno of the wrecked Air India Express plane that crashed in Mangalore on Saturday. For a while he could hear the screams from the ill-fated plane, but then after sometime there was silence – he understood no one was alive.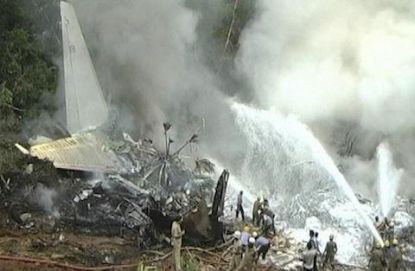 The fire was blazing from almost everywhere from the Air India Express flight IX-812, which crashed early on Saturday in the city of Mangalore in South India.
The Air-India flight had taken off from Dubai, with 160 passengers and 6 crew members. Reports say that among the passengers were 19 children and 4 infants. Some of the passengers who were on the flight included a woman, who soon was a bride-to-be, as well as a man who was on his way to perform his father's last rites.
Most of the bodies literally perished in the inferno, charred beyond recognition, and the only thing that could be found intact was the plane's tail. Rescue workers were working the whole day to find survivors, but it was God's will as it seems, they were only pulling out charred bodies and only 7 survivors.