UK Today News: Venus Williams French Open Outfit – Venus' Nude Shorts Raises Eyebrows PHOTO
Venus Williams French Open Outfit: The French Open 2010 has begun and the tennis stars have descended on Roland Garros to battle it out to be the French Open 2010 winner. Besides their tennis skills, some players outfits' seem to be getting some undue attention, and one such outfit happens to be Venus Williams' French Open outfit.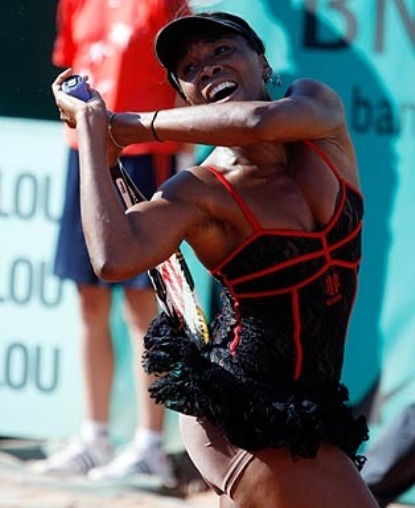 Reports say that Venus Williams' micro-mini black lace dress coupled with her nude undergarments set tongues wagging around the world. Her outfit got a lot more attention when her corset looked as if it would slip off her chest, along with the constant flashing of her nude shorts under her skirt.
Venus Williams spoke to the Los Angeles Times about her outfit and said that it was "about illusion…a lot of my motif this year."
The American went on to beat Swiss Patty Schnyder on the first day of the tournament.