UK Today News: Who Won Dancing With The Stars 2010 – Nicole Scherzinger Is The DWTS Winner
Who won Dancing with the Stars 2010, Nicole and Derek, DWTS Winner, DWTS Finale, Erin Andrews and Maksim Chmerkovskiy – After a very exciting Dancing with the Stars season 10, the Dancing with the Stars (DWTS) Finale took place on May 26 2010, where a new DWTS winner was given the Mirror Ball trophy at the end of the night.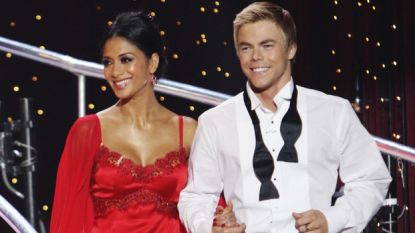 So who won Dancing with the Stars 2010? The DWTS winner is none other than the very gorgeous Nicole Scherzinger and her partner Derek Hough. The Pussycat doll and Derek got perfect scores for their performances on the Argentine tango and jive, and went on to win the show.
A surprise second place winner was figure skater Evan Lysacek and Anna Trebunskaya, while reporter Erin Andrews and partner Maksim Chmerkovskiy came in at the third place.
After Nicole Scherzinger performed the very energetic jive, head judge Len Goodman was so taken aback that he told her "There can only be one winner of 'Dancing With the Stars.' It should be you." Nicole and Derek got a score of 30 for the jive performance.
The Final DWTS Scores from both nights were:
Nicole and Derek-115
Evan and Anna-108
Nicole and Derek were given the coveted Mirror Ball Trophy.
Congratulations Nicole Scherzinger!