UK Today News: Indian Train Crash – Train Derails In West Bengal Killing Dozens, Maoists Suspected
Indian Train Crash, West Bengal Train Crash: A train disaster occurred at around 1:30 a.m. IST (4 p.m. ET) in eastern India, when a Mumbai-bound Lokmanya Tilak Gyaneshwari Express derailed and killed dozens of people. Reports say that since it was early morning, most passengers were sleeping. The police and medical crews reached the site only an hour after the train crash.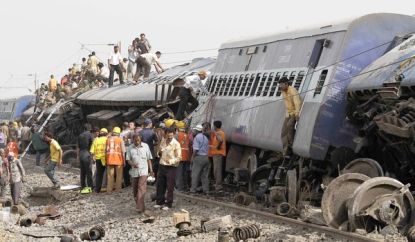 The train crash has killed more than 65 people and rescue operations are still presently in progress at the crash site. Reports say that this could be a possible sabotage by Maoist rebels in the area, since "after an Indian passenger train derailed early Friday, sending railroad cars crashing onto an adjoining track. An oncoming freight train slammed into many of those cars, killing at least 65 people and injuring 200." (LA Times)
The incident took place in the Indian state of West Bengal, near the city of Sardiha, which is situated almost 90 miles away from the capital – Kolkata, formerly Calcutta. Kolkata is known to be a Maoist area and there have been many attacks in the areas over the past few months.
CNN reports: "The blast was carefully timed," India's Railway Minister Mamata Banerjee said on television. "The tracks were sabotaged 15 minutes before the train passed over them."
Stay tuned for more updates her on the Indian train crash.