UK Today News: Oil Spill Florida – BP's Gulf Of Mexico Oil Spill Edges Closer To Florida's Pensacola Beach
Oil Spill Florida, Gulf Coast Oil Spill: BP's Gulf coast oil spill is likely to hit the coast of Florida by tomorrow after it has already been spotted nine miles from Pensacola Beach, according to US experts. The oil spill in Florida makes it the fourth state to become a victim of BP's oil spill disaster. Louisiana, Mississippi, and Alabama's Dauphin Island have already witnessed the consequences of the nation's worst ever oil spill.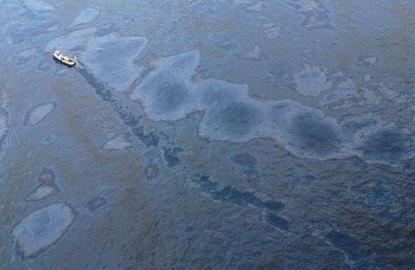 Reports say that Florida's Sen. Mr Bill Nelson has asked President Barack Obama to involve the Department of Defense to help speed up the healing process of the Gulf of Mexico oil spill.
Bill Nelson wrote in a letter to CNN stating that, since BP's "top kill" operation was a failure, the President should take more control by also involving the US Military.
Nelson wrote in the letter:
"While the Coast Guard, under the Department of Homeland Security, and the National Guard both are involved, it is my belief that the broader assets and command and control capability of the Department of Defense could better translate your directives into prompt, effective action."
Nelson added: "Americans need to feel that their government is taking an all hands on deck response."
The Gulf of Mexico Oil Spill is currently in it's 45th day and has turned out to be the biggest ever oil spill disaster in the history of the United states of America.