UK Today News: Plane Crashes into Long Island Building

A small aircraft crashed while practicing into an office building in Long Island and burst into flames on Saturday afternoon.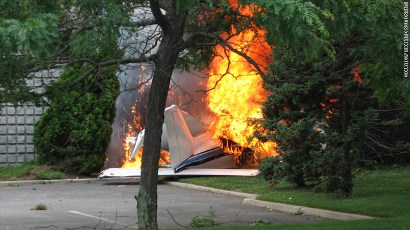 The Pilot of the small aircraft was trying to land the place as he was practicing. The Pilot was airlifted to Stony Brook University Hospital, he was in a very serious condition with several burns.
The aircraft was a two seater Beechcraft B19 and the pilot was practicing landing on the MacArthur Airport in Bohemia, Long Island.
Another passenger was inside the airplane and had fewer injuries, a civilian is believed to have helped the pilot and the passenger when the place crashed.
Reports also say, that a couple of offices were effected and a third person on the ground was injured too.