UK Today News: California Election Results 2010 – Meg Whitman, Carly Fiorina Were Among Winners
Tuesday Night in the US was held for California primary elections for governor and Senate and it seems very unpredictable to see who is going to make it to the top.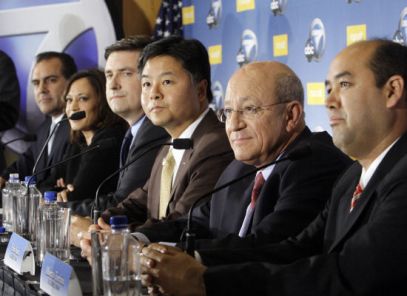 Also we saw for the first time in history that the California Republican Party nominated a woman for both the top spots, that is the race to the governor as well as the Senate seat.
The Republican primary for California governor was won by Meg Whitman, former Bay chief executive. On the other hand businesswoman, Carly Fiorina won the right to challenge Democratic Sen. Carly Fiorina was the former Hewlett-Packard Co. CEO.
California Governor's Race standings

Democratic
Richard William Aguirre 44,803 4.0%
Edmund G. "Jerry" Brown 939,873 84.0%
Lowell Darling 18,817 1.6%
Vibert Greene 26,874 2.4%
Charles "Chuck" Pineda, Jr. 47,268 4.3%
Peter Schurman 16,853 1.5%
Joe Symmon 25,641 2.2%
Republican
Bill Chambers 17,253 1.5%
Douglas R. Hughes 13,652 1.2%
Ken Miller 15,585 1.4%
Lawrence "Larry" Naritelli 24,033 2.3%
Robert C. Newman II 18,485 1.6%
Steve Poizner 287,455 26.5%
David Tully-Smith 13,084 1.2%
Meg Whitman 699,043 64.3%