UK Today News: The FIFA 2010 World Cup will begin on June 11, 2010 and will see 32 countries from across the world meeting in South Africa to become the next soccer World Cup winner.
The World Cup takes place every 4 years and it spreads across one whole month, with a soccer team crowned the next world champion at the end of the tournament.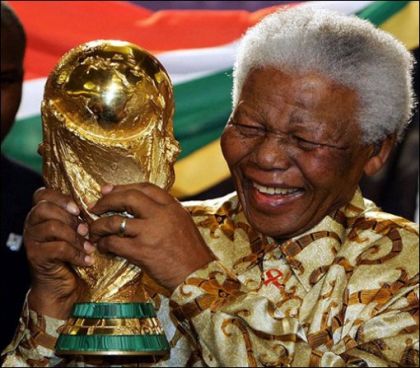 Former President of South Africa Nelson Mandela with the FIFA World Cup trophy
FIFA World Cup 2010 opening ceremony:
The FIFA World Cup 2010 opening ceremony will take place on Thursday night and will see Shakira performing the official 2010 World Cup song, "Waka Waka (This Time for Africa). John Legend, Alicia Keys, the Black Eyed Peas are some of the other artists that will be performing at the opening ceremony of the 2010 Fifa World Cup.
Fifa 2010 World Cup Schedule and Matches:
The schedule of matches in the group stage of the Fifa World Cup are as follows:
Group A
Match Date – Time Venue Matches
1 11/06 16:00 Johannesburg – JSC South Africa – Mexico
2 11/06 20:30 Cape Town Uruguay – France
17 16/06 20:30 Tshwane/Pretoria South Africa – Uruguay
18 17/06 20:30 Polo wane France – Mexico
33 22/06 16:00 Rustenburg Mexico – Uruguay
34 22/06 16:00 Managing/Bloemfontein France – South Africa
Group B
Match Date – Time Venue Matches
3 12/06 16:00 Johannesburg – JEP Argentina – Nigeria
4 12/06 13:30 Nelson Mandela Bay Korea Republic – Greece
19 17/06 16:00 Managing / Bloemfontein Greece – Nigeria
20 17/06 13:30 Johannesburg – JSC Argentina – Korea Republic
35 22/06 20:30 Durban Nigeria – Korea Republic
36 22/06 20:30 Polo wane Greece – Argentina
Group C
Match Date – Time Venue Matches
5 12/06 20:30 Rustenburg England – USA
6 13/06 13:30 Polo wane Algeria – Slovenia
22 18/06 16:00 Johannesburg – JEP Slovenia – USA
23 18/06 20:30 Cape Town England – Algeria
37 23/06 16:00 Nelson Mandela Bay Slovenia – England
38 23/06 16:00 Tshwane/Pretoria USA – Algeria
Group D
Match Date – Time Venue Matches
7 13/06 20:30 Durban Germany – Australia
8 13/06 16:00 Tshwane/Pretoria Serbia – Ghana
21 18/06 13:30 Nelson Mandela Bay Germany – Serbia
24 19/06 16:00 Rustenburg Ghana – Australia
39 23/06 20:30 Johannesburg – JSC Ghana – Germany
40 23/06 20:30 Nelspruit Australia – Serbia
Group E
Match Date – Time Venue Matches
9 14/06 13:30 Johannesburg – JSC Netherlands – Denmark
10 14/06 16:00 Managing / Bloemfontein Japan – Cameroon
25 19/06 13:30 Durban Netherlands – Japan
26 19/06 20:30 Tshwane/Pretoria Cameroon – Denmark
43 24/06 20:30 Rustenburg Denmark – Japan
44 24/06 20:30 Cape Town Cameroon – Netherlands
Group F
Match Date – Time Venue Results
11 14/06 20:30 Cape Town Italy – Paraguay
12 15/06 13:30 Rustenburg New Zealand – Slovakia
27 20/06 13:30 Managing / Bloemfontein Slovakia – Paraguay
28 20/06 16:00 Nelspruit Italy – New Zealand
41 24/06 16:00 Johannesburg – JEP Slovakia – Italy
42 24/06 16:00 Polo wane Paraguay – New Zealand
Group G
Match Date – Time Venue Results
13 15/06 16:00 Nelson Mandela Bay/Port Elizabeth Côte d'Ivoire – Portugal
14 15/06 20:30 Johannesburg – JEP Brazil – Korea DPR
29 20/06 20:30 Johannesburg – JSC Brazil – Côte d'Ivoire
30 21/06 13:30 Cape Town Portugal – Korea DPR
45 25/06 16:00 Durban Portugal – Brazil
46 25/06 16:00 Nelspruit Korea DPR – Côte d'Ivoire
Group H
Match Date – Time Venue Matches
15 16/06 13:30 Nelspruit Honduras – Chile
16 16/06 16:00 Durban Spain – Switzerland
31 21/06 16:00 Nelson Mandela Bay Chile – Switzerland
32 21/06 20:30 Johannesburg – JEP Spain – Honduras
47 25/06 20:30 Tshwane/Pretoria Chile – Spain
48 25/06 20:30 Managing / Bloemfontein Switzerland – Honduras
Round of 16
Match Date – Time Venue Matches
49 26/06 16:00 Nelson Mandela Bay 1A – 2B
50 26/06 20:30 Rustenburg 1C – 2D
51 27/06 16:00 Managing / Bloemfontein 1D – 2C
52 27/06 20:30 Johannesburg 1B – 2A
53 28/06 16:00 Durban 1E – 2F
54 28/06 20:30 Johannesburg 1G – 2H
55 29/06 16:00 Tshwane/Pretoria 1F – 2E
56 29/06 20:30 Cape Town 1H – 2G
Quarter-Finals
Match Date – Time Venue Matches
57 02/07 16:00 Nelson Mandela Bay W53 – W54
58 02/07 20:30 Johannesburg W49 – W50
59 03/07 16:00 Cape Town W52 – W51
60 03/07 20:30 Johannesburg W55 – W56
Semi-Finals
Match Date – Time Venue Matches
61 06/07 20:30 Cape Town W58 – W57
62 07/07 20:30 Durban W59 – W60
Match for Third Place
Match Date – Time Venue Match
63 10/07 20:30 Nelson Mandela Bay L61 – L62
Final of the FIFA World Cup 2010
Match Date – Time Venue Match
64 11/07 20:30 Johannesburg W61 – W62