UK Today News: 2010 Chicago Blackhawks Parade – More Than 2 Million Fans Cheer Blackhawks Stanley Cup Win
Chicago Blackhawks Parade: Around 2 million Blackhawks fans celebrated the Blackhawks' hockey championship win today, after the Blackhawks brought the Stanley Cup trophy back to Chicago after 49 years.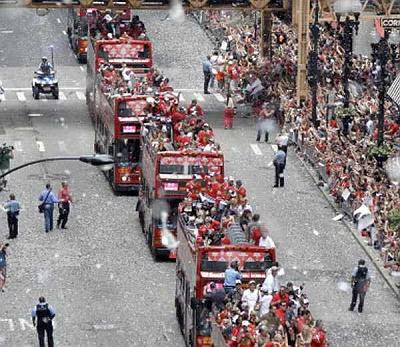 Pic Courtesy: AP
On Chicago's Michigan Avenue, the team players and officials rode in red double-decker buses, basking in the cheers and appreciation of the crowd.
The crowd chanted "Let's go Hawks! Let's go Hawks" as the Blackhawks passed by in the bus.
Team captain Jonathan Toews hoisted the Stanley Cup on the stage and said: "I didn't know there were this many people in Chicago. We have the most unbelievable fans….You guys are absolutely amazing. You made this special for us. You guys are the greatest. Thank you very much."
This is the first time since 1961 that the Blackhawks have won the Stanley Cup and brought the much awaited Stanley Cup trophy back to Chicago.