UK Today News: South Korea vs Greece – Park Ji-Sung, Lee Jung-Soo Help South Korea Beat Greece 2-0
South Korea vs Greece, Park Ji-Sung, Lee Jung-Soo: The South Korea vs Greece match took place today at the Nelson Mandela Bay Stadium in Port Elizabeth, South Africa. South Korea beat Greece 2-0 in the Group B match.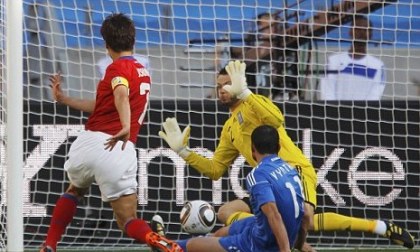 South Korea's Park Ji-Sung scores. Pic: Reuters
South Korea's Lee Jung-Soo scored in the seventh minute and this was then followed by Park Ji-Sung's amazing goal seven minutes after halftime, thereby giving South Korea a good first step ahead into the 2010 FIFA World Cup.
Greece, on the other hand began the game very well, but thereafter Torosidis hit the ball wide after taking on captain Georgios Karagounis' second-minute corner.
Greece finally started it's attack in the final 20 minutes, but it was too late for them to get back into the game.
The Argentina vs Nigeria match is the next match for today. Check back here on www.uktodaynews.com for more FIFA World Cup 2010 updates.