UK Today News: Canadian Grand Prix 2010 – McLaren's Lewis Hamilton Wins Canadian Grand Prix For The Second Time
Canadian Grand Prix 2010: The Canadian Grand Prix 2010 auto race, took place today Sunday, June 13, 2010, in Montreal and Lewis Hamilton has won the Canadian Grand Prix for the second time in four years.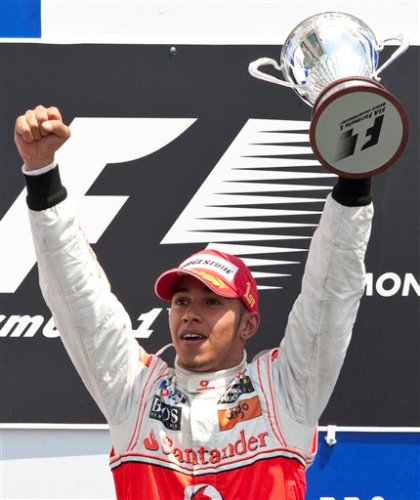 McLaren's Hamilton won the race at Circuit Gilles Villeneuve and has gone ahead and taken the season points lead from Mark Webber.
On winning the Canadian Grad Prix 2010, Lewis Hamilton said:
"I don't know why I do well here," Hamilton said. "I love it here. It's a great track, great city, great food and great weather today. … I'm just able to dial in my car here and have a better feel here than some other places."
Hamilton's teammate Jenson Button came in second and Ferrari's Fernando Alonso came in third. The top three were then followed by Red Bull's Sebastian Vettel and Webber, Mercedes' Nico Rosberg, Renault's Robert Kubica and Toro Rosso's Sebastien Buemi.