UK Today News: Microsoft Reveals New Xbox 360 Slim – Xbox Features, Price In USA & UK
Xbox 360 Slim: In order to make way for the newly launched Xbox 360 Slim, Microsoft has cut the price of older Xbox360 video game consoles.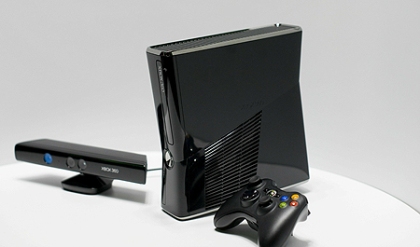 Microsoft ended its much awaited press conference at E3, by announcing the new slimmer and smaller Xbox 360 video game console. The new Xbox console is termed as Xbox 360 Slim.
The new Xbox has a lot more connectivity. You get five USB 2.0 ports, three of which are on the back and two are up front under the sliding panel. There is an AUX port for connecting accessories such as the Xbox 360 Kinect. And finally there is Wi-Fi 802.11n built right in.
The new model is much lighter and comes with a much smaller power brick compared to the older version of the Xbox video gaming consoles.
There are eight games available that are compatible with Kinect, such as Kinectimals, Kinect Sports, Your Shape: Fitness Evolved, Dance Central. Also expected this holiday season are more titles, like EA Sports Active 2, Deca Sports Freedom, Dance Masters, Adrenalin Misfits; Zumba Fitness, Sonic Free Rigers, The Biggest Loser: Ultimate Workout, Motion Sports, and Game Party: In Motion
True to its name, the new Xbox 360 comes with a 260 gigabyte hard drive. The smaller Xbox 360 black design will sell for $299.
It is now available in the U.S market, and will be released in the rest of the world very soon. The Xbox 360 Slim will be available in UK stores from 16 July onwards and will be priced £199.99.