UK Today News: Touchdown Jesus Statue On Fire – Big Butter Jesus Statue Ohio, King Of Kings Statue Hit By Lightning
The King Of Kings statue of Jesus aka Touchdown Jesus Statue or Big Butter Jesus Statue, which famously stood on the grounds of Solid Rock church in Monroe, Ohio was reportedly damaged by lightning, which struck mid night of June 15th.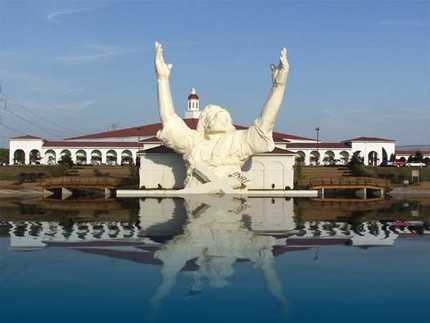 The King of Kings Statue in Ohio before it was burnt down by lightning
Reports say that the six storey statue, with had both the arms raised to the heavens, is known as 'King of Kings', and is also fondly known as 'Big Butter Jesus' because of its pose and color. The statue is known to have many other names as well.
The huge blaze, which followed the lightning, damaged the statue and surrounding areas but no one was injured. The fire chief of Monroe  said that the damage was around $ 700,000.
The 'King of Kings' was the largest sculpture of Jesus Christ in America and it was built in the year 2004. It was 60 feet high and weighed around 8 tons. It is known to have been made of wood and Styrofoam, sculpted over a steel framework and concrete from the exterior.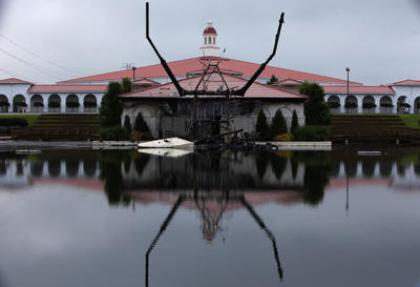 The skeleton  of the King Of Kings Statue, after lightning struck and burnt it down
People hope to see the statue of Jesus restored to its original glory at the earliest.