UK Today News: Nintendo Unveils 3DS At E3 Expo in LA – 3DS Features, But Price Not Revealed
Nintendo 3DS – Nintendo Co., the largest portable video-game player company, has unveiled the much awaited 3DS at the E3 Expo in Los Angeles, which makes it the first handheld gaming system to support 3D without wearing special glasses.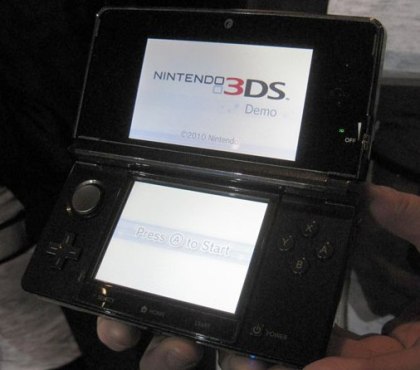 A demo model of the Nintendo 3DS
The "3DS", reportedly uses a technology that's specially made for the handheld device and the Nintendo 3DS display is said to be built by Hitachi and Sharp, by using some sort of a parallax barrier system – wherein the pixels are aligned in such a way that the left and right eyes see dissimilar portions of the image on the screen.
Nintendo revealed the 3DS while displaying many other upcoming video games on Tuesday at the E3 Expo in Los Angeles.
So what are the main features of the new Nintendo 3DS?
Main screen has a 3.53-inch widescreen LCD display, including 3D view without special glasses along with a 800×240 pixel resolution
Other screen comes with a 3.02-inch LCD with 320×240 pixel resolution and touch screen
3DS Game Card – 2 GB
1 inner camera, 2 outer cameras with 0.3 Mega pixel resolution.
Touch screen
A port accepting Nintendo 3DS game cards and game cards for the Nintendo DS family of systems,
SD memory card slot
AC adapter connector
Embedded microphone
A/B/X/Y face buttons, + Control Pad, L/R buttons, Start and Select buttons
The launch date and price of the Nintendo 3DS has not been revealed.