UK Today News: Argentina Vs South Korea – Argentina Thrash South Korea 4-1, Gonzalo Higuain Scores Hattrick
Argentina Vs South Korea, Gonzalo Higuain: The Argentina vs South Korea World Cup match today was lively and exciting and saw Coach Maradona ecstatic to see his team Argentina beat South Korea 4-1 in Johannesburg, South Africa .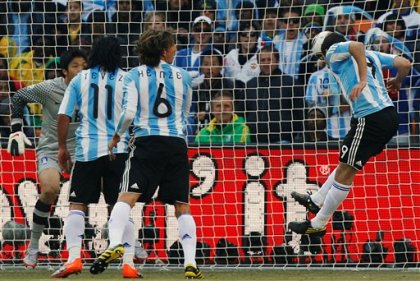 Argentina's Gonzalo Higuain heads the ball into the goal
Argentina took the lead after an own goal by South Korea's Park Chu-young and this was then followed by Gonzalo Higuain's header to make Argentina lead 2-0. South Korea's Lee Chung-yong then scored the first and only goal for South Korea in the 46th minute before half-time.
The second half saw Gonzalo Higuain scoring his second goal in the 76the minute, followed by his third goal – courtesy Messi – in the 80th minute.
Argentina dominated the major part of the game and even Messi tried to score, but in the end it was Argentina that emerged the winners.
The next FIFA world cup game will see Greece vs Nigeria.