UK Today News: USA vs Slovenia World Cup 2010 – US vs Slovenia Tie At 2-2
USA vs Slovenia World Cup,US vs Slovenia : The USA vs Slovenia World Cup match took place Friday, June 18,and  ended up in a tie score of 2-2. The USA – Slovenia match took place at the Ellis Park Stadium, South Africa.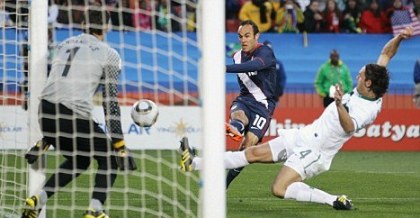 Landon Donovan scores the first goal for USA (Getty)
The first goal of the match was scored by Valter Birsa from Slovenia in the 13th minute, followed by Zlatan Ljubijankic's goal in the 42 nd minute – the second goal for Slovenia. USA, on the other hand, did not score in the first half of the game.
Then second half was dominated by USA, and saw the first goal for USA in the 48th minute, when Landon Donovan scored. Later in the 82nd minute, US Coach Bob Bradley's son Michael Bradley scored the equalizer goal for USA.
The game ended in a draw between USA and Slovenia.