UK Today News: Germany Vs England 2010 World Cup Match – England Not Awarded Second Goal By Referee In First Half, Germany 2 – England 1
Germany Vs England, England Vs Germany:The historic Germany vs England 2010 World cup match has begun in Bloemfontein, South Africa today, and the scores at the first half show that Germany lead with a 2-1 score over England.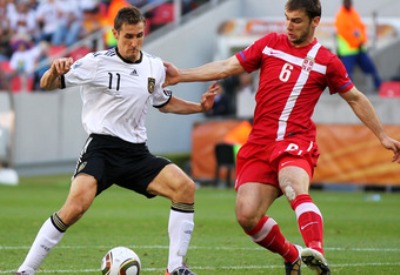 Pic: Cameron Spencer/Getty Images
Germany's Miroslav Klose scored the first goal to give Germany a 1-0 lead against England in 20th minute of their World Cup second-round match. The goal was then followed by Lukas Podolski's shot from an angle through the legs of English goal keeper David James.
Matthew Upson then scored the first goal for England.
England's Lampard also scored a second goal when the ball hit the underside of the bar and clearly crosses the line, but quite shockingly the referee and linesman did not award the goal to England, much to the disdain of the English fans.