UK Today News: Delhi's New Airport Terminal Opened Today – Indian Capital Gets Sophisticated T3 Terminal
New Delhi, India's capital, is all set to welcome Common Wealth Game 2010 players, fans and the rest of the world to a whole new hi- tech flying experience, with the inauguration of a new terminal at the Indira Gandhi International Airport (IGI) on Saturday.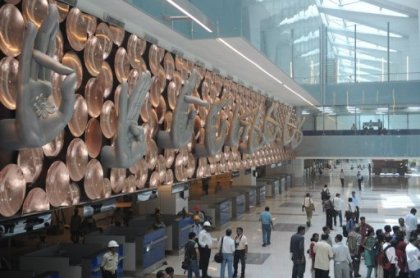 The swanky new Indian airport
Reports state that the Indian Prime Minister Manmohan Singh and UPA head Sonia Gandhi, inaugurated the new domestic-cum-international terminal (T3) of the Indira Gandhi International Airport (IGI) today, on 3rd July 2010.
With 168 check-in counters, 50 emmigration desks, 49 immigration desks, 97 automatic travelators, 78 aerobridges, and the latest Cat III runway and landing systems, the new terminal will provide a world-class travel experience. This $2.8 billion terminal will put the Indian capital in the category of major cities with world class airports.
T3 houses 63 elevators and 35 escalators, besides this, it has a common check-in concourse with five level in-line baggage systems, this will provide impetus to processing.
The airport has now put Delhi high on the list of cities with the best airport facility. The airport is ready to handle more than 35 million passengers a year and call f or a challenge to Hong Kong, Singapore and Dubai.
The Indian airport will start receiving the international flights from July 14.
The New Delhi airport is India's third world-class airport after Hyderabad and Bangalore.