UK Today News: Netherlands Vs Brazil World Cup Match – Holland Kicks Brazil Out Of The World Cup Quarter Finals
Netherlands Vs Brazil World Cup Match, Brazil Out: It was a 'believe it or not' moment for soccer fans all over the world, and especially for the Brazilians, when the Dutch showed them the door in the FIFA World Cup 2010. Netherlands beat Brazil 2-1 in the quarter-finals match at Port Elizabeth, South Africa on Friday.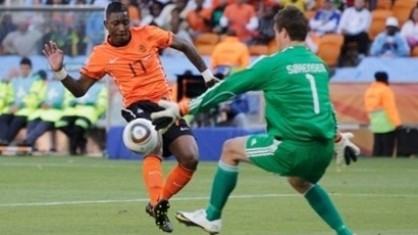 The Dutch were not considered as the underdogs, as they have won a World Cup in the past, and at Port Elizabeth, they showed their skills that they are still in the tournament.
The game went this way, for the first 45 minutes, Arjen Robben was struggling with the ball and trying to maneuver it through the Brazilian defense. The Dutch were already lagging behind by one goal which was struck by Robinho in the 10th minute. It seemed as the Samba boys were heading towards the sixth World Cup title. Breakthrough came for the 'Oranje' men when Felipe Mello, in the 53rd minute, headed the ball into the goal. It was an equalizer now and the Brazilians had shifted their gears to the next level, but it seemed not to work, as the Dutch made a remarkable goal in the 68th minute by striker Wesley Sneijder.
In the final minutes, as the clock was ticking away, Brazil had started to realize that they were on the threshold of exiting the tournament now, and the Dutch had finally taken their 12 year old revenge against them, which had started in the 1997 world cup semi-finals. But as of now we can only imagine who will be the winner for this World Cup, and especially with the Brazilians gone.