UK Today News: Leander Paes And Cara Black Takes Wimbledon Grand Slam Home

Wimbledon 2010: A straight set victory by India's Leander Paes and Zimbabwean Cara Black in the Wimbledon mixed doubles championship on Sunday made them take the Grand Slam title home.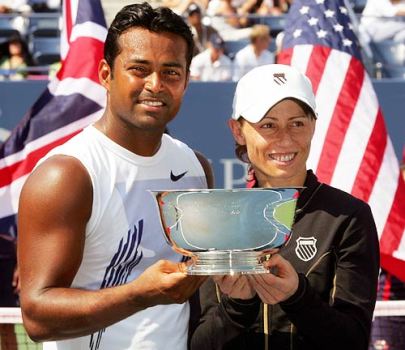 Leander Paes And Cara Black(picture)
The win increased Paes trophies of the Grand Slams. To be precise Paes now has 12 Grand Slam titles in total — six men's doubles and six mixed doubles.
Paes had won previously with Martina Navratilova in 2003 and Lisa Raymond in 1999, whereas Black's previous win was with brother Wayne in 2004.
Paes and Black rivaled Wesley Moodie (South Africa) and Lisa Raymond (South America)
Paes and Black, broke their rivals thrice before the win and finished the first set by 6-4 in just 37 minutes.
K Sankaranarayanan, the Governor of Maharashtra congratulated Paes for his win.
"What impresses me most about you is that you have achieved this success like a lone warrior carrying the expectations of the nation. The people of Maharashtra, your new home State, are especially proud of your achievement," the governor said to Paes in his congratulatory letter.
"While wishing you more glory in your future career, I wish and hope that your success will inspire all sportspersons to better their performances in their respective disciplines," he said.