UK Today News: Dalai Lama Celebrates 75th Birthday Today – Dalai Lama To Be Gifted Portrait Done In Blood

Dalai Lama will be celebrating his 75th birthday today in Dharamshala. A man named Mahesh Yadav from the city of Bhopal, India, who by profession is a medical practitioner and a strong supporter and individual for the Tibetan Freedom Movement, has reportedly been sketching portraits of the Buddhist spritual leader, Dalai Lama, from his own blood. And Mr. Yadav has now decided to present these as a gift to his spritual leader on his 75th birthday.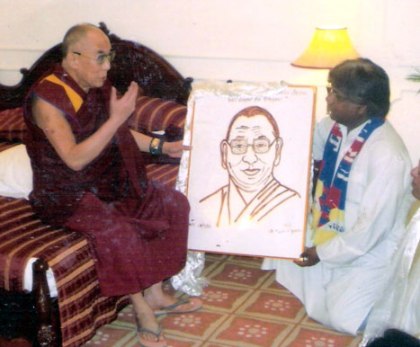 Yadav said: "I have been working for the freedom of Tibet, security of India and world peace since long. I consider Dalai Lama to be the second form of Mahatama Gandhi. Today is Dalai Lama's birthday. He will turn 75 this year. Therefore praying for his long life, I have wished him by painting his sketch with blood."
People who have seen his work were enthralled and wondered by his dedication. He has been a true supporter of The Tibetan Freedom Movement from his heart and has been a follower of Dalai Lama from a long time now. Till date Yadav has made almost 600 portraits of famous leaders, which include Mahatma Gandhi and Barack Obama too.