UK Today News: Small Children a Part Of Northern Ireland Riots
The Belfast Councillor, Nicola Mallon. stated that children as young as 10 year olds, have been a part in the third day of the sectarian riots of Ireland.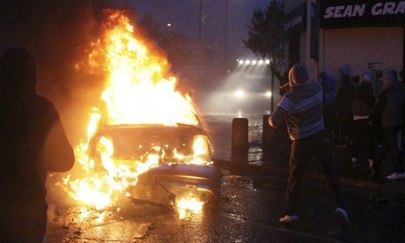 The Councillor had been in Ardoyne all night on Tuesday, looking over the mayhem and madness that the rioters were doing, and amidst this, the local residents started to worry about the situation.
In Ardoyne, police had shot atleast six rounds to gain control over the situation, as the rioters were throwing petrol bombs on the police. Youths in the North Queens Street had built up a barricade against the police and in south Belfast, a bus was damaged by stone throwning mobs in the city.
Police officials have stated that there have been a number of arrests in context of the riots. But the worst part was that the rioters who were throwing stones and petrol bombs on the police force, were using small children as shields to protect themselves. The police have video footage of the rioters who were using the children, they would later identify them and arrest them.