UK Today News: Mexico Car Bomb Explosion – State Security Forces Blame Drug Cartel For Deadly Attack
The State security forces stated that a Mexican drug cartel is the cause of a deadly explosion that took place in a Mexican city near the U.S. border which killed four people. The explosion which took place, was reportedly the first of its kind, which had been undertaken by a drug lord in the city. The bomb explosion took place in Ciudad Juarez which is across the border near El Paso, Texas.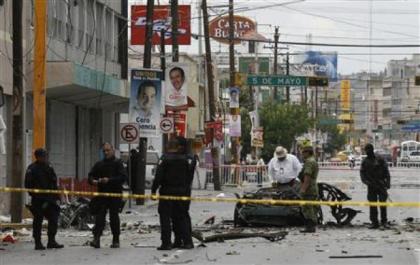 Mexico Bomb Explosion (Pic: Reuters)
The explosion occurred as a result of a mobile phone detonation, and destroyed many buildings around it. The police have said that La Linea, a powerful and armed cartel of Juarez in Mexico, are responsible for the attack and this was an answer to the arrest of a Juarez cartel member. There were almost 10 kilos of explosives that were used in the explosion, and this has become one of the deadliest explosions over 2 1/2 years.
The Mayor of Ciudad Juarez, stated, that these drug gangs, had lured the city police to explosion spot by setting up a trap in the form of a wounded police officer. When the emergency services arrived, they detonated the explosives with a cell phone.