UK Today News: North Korea Warns Physical Response To US-South Korean Military Exercises
North Korea has reportedly made a strong statement saying that it will react physically to the joint naval exercise that will take place between U.S. and S. Korea. The statement of a "physical response"  to US-South Korean military exercises came at the meeting of Foreign Ministers at Vietnam.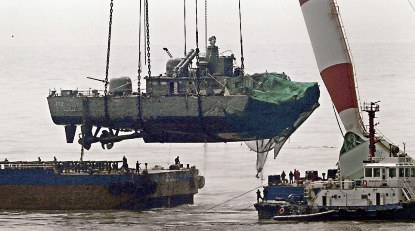 The South Korean naval ship (Pic Courtesy: DM)
There has been strong concerns in the forum regarding the sinking of the S.Korean Naval ship since March.
The U.S.has previously accused N. Korea of provocative behavior. N. Korea has commented that it is looking forward to peace; as most of the Asian countries are developing rapidly and have peaceful relations, N.Korea too is looking ahead to go in that direction. (BBC)
N. Korea has said that the drill, which will take place in the Yellow sea, will not just be a normal defense exercise, but rather will include sophisticated weapons. They have also reportedly stated that these war games will pose a threat to  Korea as well as to  Asia on the whole. It has promised that it will react physically if the N. Korean feel that there is eminent threat from the U.S.