UK Today News: Michigan Oil Spill – Canadian Firm Enbridge Responsible For Leak, Spill Contained In Local River

The cause of the massive oil spill which occurred in the Kalamazoo river in Michigan has been attributed to a leaking oil pipe which belongs to a Canadian firm called Enbridge – who reportedly claims to be a major player in pipeline safety and integrity.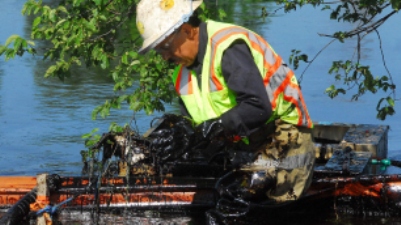 Pic Courtesy: John Grap/Battle Creek Inquirer/Associated Press
Reports say that Enbridge has a history of leaks, explosions as well as regulatory violations in the Great Lakes Region, in addition to some other parts of the US.
The Pipeline and Hazardous Materials Safety Administration has cited more than 30 enforcement actions against the firm since 2002. A warning letter had been sent to the company on the 21st of Jan and stated that Enbridge might have violated some safety codes by not accurately monitoring the corrosion on the pipeline, which in turn resulted in the Michigan oil spill on Monday.
According to the agency, the oil spill occurred at Talmadge Creek – a small rivulet that joins the river Kalamazoo. The Environmental Protection Agency has said, that the oil spill has been estimated to be around 1 million gallons as of now, and the oil has already travelled 25 miles downstream the river.
CTV reports state the oil spill is currently being contained in one of the local lakes called Morrow Lake.