UK Today News: Wicker Park Fest Schedule – Lineup Of Performances For Today

Wiker Park Fest is organized by Wicker Park & Bucktown Chamber of Commerce and Big Creek Productions and this is the 10th edition of the festival.
Wiker Park Fest 2010 Will take place in Chicago and attendance to the festival is expected to be 50,000 this year. Many famous musicians will be performing at the event. The ticket is priced approximately $20.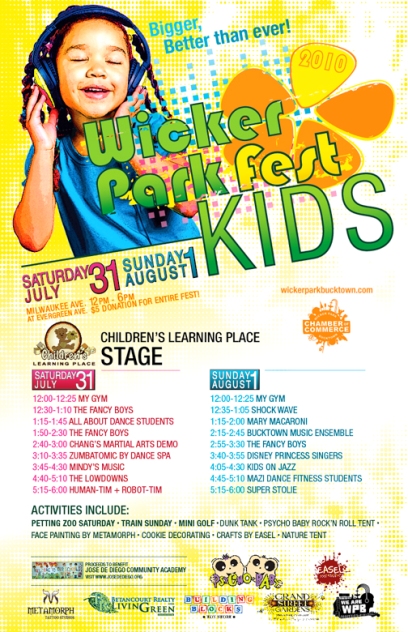 The Wicker Park Fest Schedule for year 2010 is given below with the stage.
The lineup for Saturday, July 31, 2010:
South Stage
8:45 PM >> Holy F_ck
7:15 PM >> BoomBox
5:50 PM >> Auto Body
4:40 PM >> Gaslamp Killer
3:30 PM >> Signal Path
2:30 PM >> Tokimonsta
1:30 PM >> Prepschool
Tweener Sets >> Alex B (Tweener DJ Sets)
North Stage
9:00 PM >> Cap'n Jazz
7:30 PM >> Mission Of Burma
6:15 PM >> Native
5:15 PM >> Morning Teleportation
4:15 PM >> Pinebender
3:15 PM >> Indian
2:15 PM >> Big Science
Center Stage
9:00 PM >> LA Riots
8:00 PM >> Moneypenny
7:00 PM >> Team Bayside High
6:00 PM >> Hollywood Holt
5:00 PM >> Only Children
4:00 PM >> Gemini Club
3:00 PM >> Kid Color
2:00 PM >> Blah Blah Blah
1:00 PM >> Mad Dog 20/20 & Cheap Champagne
Lineup for Sunday, August 1, 2010:
South Stage
9:00 PM >> Fun
7:30 PM >> Plants And Animals
6:10 PM >> Van Ghost
5:10 PM >> Jacob Fred Jazz Odyssey
4:10 PM >> Jonathan Tyler & the Northern Lights
3:10 PM >> JC Brooks & The Uptown Sound
2:10 PM >> B.S. Brass Band
1:10 PM >> Save the Clocktower
Tweener Sets >> DJ Lou Dooben (Tweener DJ Sets)
North Stage
9:00 PM >> Baroness
7:30 PM >> Torche
6:00 PM >> Yakuza Arkestra
5:00 PM >> The Scotland Yard Gospel Choir
4:00 PM >> Gringo Star
3:00 PM >> Happy Birthday
2:15 PM >> Residual Echoes
1:30 PM >> Beings
Center Stage
8:30 PM >> Local H
7:00 PM >> The Hood Internet
6:15 PM >> The Hard Lessons
5:15 PM >> Zebo
4:30 PM >> Oh My God
3:45 PM >> Matt Roan
3:00 PM >> Shapers
2:00 PM >> John Simmons
1:00 PM >> California Wives
SILVER WRAPPER AFTER PARTY
Plus a special LATE NIGHT EVENT at Double Door Presented by Silver Wrapper featuring:
Eliot Lipp,Alex B, Gaslamp Killer, Signal Path, DJ Thibault
Sources: wickerparkbucktown