UK Today News: Mumbai Oil Spill 2010 – Indian Navy And Coast Guard Try To Contain Spill On Day 3

Mumbai Oil Spill: It is the third day since the two Panamanian cargo ships, MSC Chitra rammed into another vessel, the MV Khalijia 111, and started an oil leak 10 kms off the coast of the Mumbai city coast. Till now, around 400 oil containers have already fallen into the sea, and it has become a cause of concern.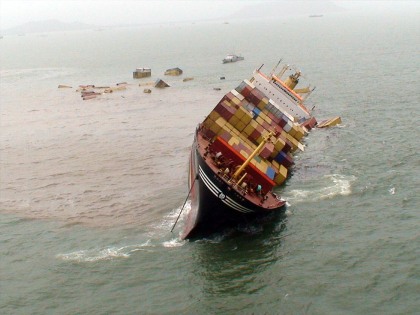 MSC Chitra has tilted to around 80 degrees.

Local reports state that the container ship MSC Chitra, hit another cargo ship, MV Khalijia 111, which is also of Panamanian origin, on Saturday last week. The collision was so hard that the MSC Chitra tilted and started to topple oil containers in to the sea. Currently, the ship has tilted to almost 80 degrees. The Indian Navy and Coast Guard have started anti-pollution operations around the containers.
Indian news agency NDTV reports that the oil has already spilled over three kilometers and it will take the Indian government atleast a month to clean it all up.
Around six Coast Guard ships and a helicopter have been deployed for the anti-pollution operation, and they have started anti pollution spraying dispersal system on the oil spread off the coast of Mumbai. The Chief Minister of Maharashtra, Mr. Ashok Chavan, has filed cases against the two captains of the ship, as they have caused a dangerous situation off the Mumbai coast.
The Prime Minister of India, Mr. Manmohan Singh, has reportedly ordered an investigation into the Mumbai oil spill.