If the recent flooding wasn't enough, the weather forecast department in Pakistan has warned of yet another one that is likely to occur within the next 24 hours. The department has notified that there is a chance of another incident of a flood attack in southern Pakistan around this weekend.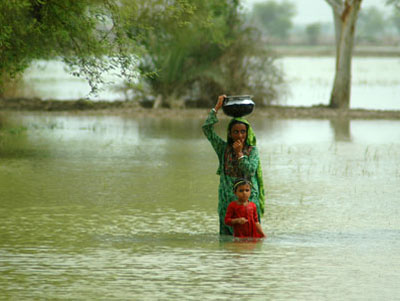 The recent flood waves that struck Pakistan in the beginning of this month have already killed thousands of people across the country and has become a huge cause of concern. According to the information provided by the National Disaster Management Authority Spokesperson, Ahmed Kamal, a minimum of 1,384 are reported to have been died in the floods, 1,630 are reported to be injured and destruction of 8,300 villages is reported.
The United Nations is doing whatever it can to reach out to the Pakistanis. Martin Mogwanja, the United Nations' Humanitarian Coordinator appointed for Pakistan said, "Relief supplies must reach women, men and children as soon as possible, in order to avoid further death caused by waterborne diseases and food shortages."
The weather is creating all the hurdles that it can; humans cannot control the climatic conditions. Efforts are being made to evacuate people from the flood affected region.