UK Today News: Philippines Bus Crash – 39 Killed As Minibus Plunges Into Ravine, 8 Survive
A minibus carrying 47 people crashed off a hill in Philippines' Benguet region on Wednesday morning, and killed 39 people. Eight people have been rescued from the wreckage, according to the police.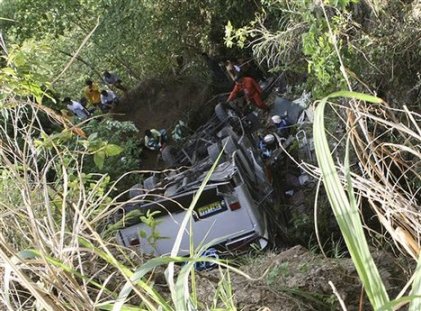 A file photo of the bus crash which took place in Cebu City, Philippines in June.
The bus was reportedly on its way to San Fernando City in La Union before it fell into a 100-foot ravine, a fire official said. Reports say that the cause of the accident has been attributed to faulty brakes, but an investigation is still underway.
The driver of the ill-fated buss survived with a broken leg.
The bus crash has been termed as one of the worst accidents in recent times in the Philippines. Just last month, 15 people died after the bus in which they were travelling crashed into a concrete barrier, and June saw the death of 21 people in yet another crash.. To add to it, Wednesday's crash took place near the site of another bus accident, which killed 20 people last year.