UK Today News: Samsung Galaxy Tablet Features, Release Date Revealed – Price Not Disclosed
Samsung has come up with its latest tablet the Galaxy Tab, to compete with the other models available in the market- like Apple's iPad. A teaser video covering the specifications of the model was released by Samsung and reports say that it is set to be released in September 2, at the IFA conference in Berlin.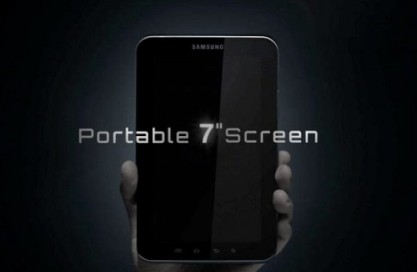 So what features does Samsung talk about in the Samsung's Galaxy Tab official video?
The Samsung Galaxy Tab is a big Tablet that offers the user a 7 inch screen, which makes the picture quality look really good. It is quite big but can come in one's hand if they have big hands! This tablet comes with a camera of 3.2 megapixel lens -for good quality image capture.
GPS is inbuilt and navigation becomes safe.  The operating system on board is an Android 2.2, which is the latest in the Android series, in addition to Adobe Flash. Some more features packed in this phone are, E-Reading, HD movies play, BlueTooth, and a 1Ghz processor. All together the tablet by Samsung is a really good package, and definitely something to go for.
The price of the Samsung Galaxy tab is yet to be revealed.