UK Today News: David And Samantha Cameron Release First Pictures Of Newborn Baby Florence

The pictures of British Prime Minister David Cameron and wife Samantha's newborn daughter Florence have been made public. Baby Florence Rose Endellion Cameron was born on August 24, 2010.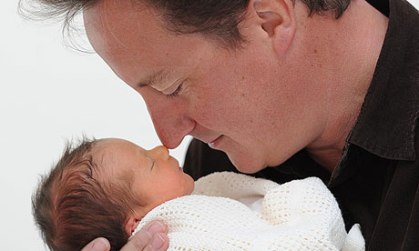 British Prime Minister David Cameron holding his newborn baby Florence. (Photo Credit: Stefan Rousseau/PA)

Reports say that baby Florence was born three weeks prematurely while the PM and his family were holidaying in Cornwall, but both mother and baby are doing fine. Samantha left hospital on Friday, and David is likely to take paternity leave to take care of his newborn child.
Florence is the Cameron's fourth child and they have two other children – Nancy (6) and Arthur (4). Their first born, Ivan, was born disabled and died in February 2009.
David Cameron will be the first British PM to take paternity leave ever since it came into being in 2003.