UK Today News: Hurricane Earl 2010 – Tropical Storm Earl Becomes Hurricane, Approaches Leeward Islands
Tropical Storm Earl has reportedly turned into a Hurricane on Sunday, 29th August 2010, after it became a threat to islands located in the eastern Caribbean. The U.S. National Hurricane Center has stated that the threatening Hurricane Danielle has weakened and is now a Category 1 storm.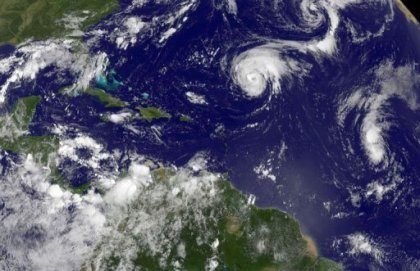 Reports state that Hurricane Earl is currently located at around 365 miles to the east of the Northern Leeward Islands, and is at a speed of 75 mph (120 kmh). (Reuters) Hurricane warnings were made a few hours ago, after Earl was seen moving toward the Northern Leeward Islands.
Weather forecasts states that there were hurricane warnings in place for Antigua and Barbuda, St. Kitts and Nevis, in addition to Montserrat and Anguilla, as well to Saint Martin and Saint Barthelemy and the Dutch overseas islands.
Hurricane Danielle did not pose any threat to the oil spill region in the Gulf of Mexico.