UK Today News: Hurricane Earl's Path Moves Closer To US East Coast – Tropical Storm Gaston Forms In Caribbean
Hurricane Earl Strengthens, Tropical Storm Gaston Forms: The category 4 Hurricane Earl's projected path is moving closer to the U.S. East Coast, and reports state that Hurricane warnings are in place for North Carolina to Delaware, as well as areas of Massachusetts since it is moving at a speed of 145 miles, as of Thursday.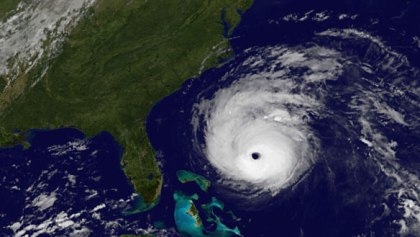 A NASA image shows Hurricane Earl moving towards the U.S. East Coast. (Pic Courtesy:CBC- NASA/Associated Press)
Reports state that US President Barack Obama and Governor Bev Perdue are known to have signed a disaster declaration for the state of North on Carolina on Wednesday evening, and the Federal Emergency Management Agency said in a statement : "The president's action authorizes the Department of Homeland Security, Federal Emergency Management Agency, to coordinate all disaster relief efforts which have the purpose of alleviating the hardship and suffering caused by the emergency on the local population, and to provide appropriate assistance for required emergency measures."
Evacuations are already in place for the people of Dare County, North Carolina, as well as the Outer Banks, and officials say schools and courts will remain closed on Thursday and Friday.
CNN reports that there is a likelihood of large waves along the coast – some reaching a height of 10 to 15 feet, in addition to around 3 to 4 inches of rain.
Newer reports also state that Hurricane Earl is likely to hit southern Nova Scotia, Canada, on Saturday morning, but as a major Category 1 hurricane, and Tropical Storm warnings are likely to be in place soon,
In yet another Storm of this year's Atlantic Hurricane season, Tropical Storm Gaston has formed, and was reportedly moving west in the central Atlantic on Thursday, and will possibly makes its way into the Caribbean Sea. The U.S. National Hurricane Center said it could become a hurricane by Sunday or Monday.
Tropical Storm Fiona is expected to pass near Bermuda by Saturday.