UK Today News: San Bruno Gas Scare Reported In Portola Elementary School Attributed To Harmless Carbon Dioxide

San Bruno Elementary School Gas Scare – The San Bruno area in San Francisco experienced yet another gas leak scare, after an elementary school named Portola Elementary School, situated near the center of last week's gas explosion, had to be evacuated on Thursday morning. Reports state that there was a very a strong odor in the school which eventually turned out to be carbon dioxide and not gas. Officials say that it is harmless and not the cause for any concern.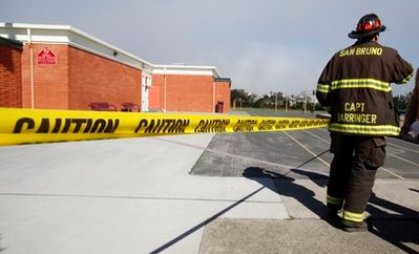 (Photo: AP)
Reports state that students of Portola Elementary School were evacuated to another school as a precautionary measure, and investigations reveal that the cause of the strong odor is reportedly carbon dioxide coming out of the school's heating system – which is considered to be not dangerous. No gas leak was detected in the school either.
The San Bruno evacuation follows the state of high alert in the community ever since last weeks disastrous gas line explosion which killed four and injured dozens, in addition to destroying more than 40 homes in the San Francisco suburb.