UK Today News: Justin Bieber Is No Threat To The Jonas Brothers' Pop Star Status?

The Jonas Brothers are maintaining a sophisticated rivalry with pop star Justin Bieber and are pretty cool about the fact that Bieber's presence in the music world is not hampering their ranking in the pop charts.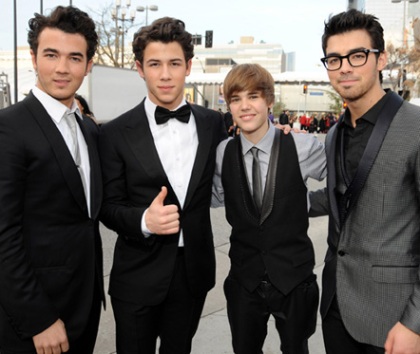 (Photo Credit: Kevin Mazur/WireImage.com)
Kevin Jonas of the Jonas Brotherssaid, "I think there is room for everybody. We're not afraid of anything or worried about anything. We're just being who we are and making music that we love. We're proud of the guys that are following their dreams. As long as they're doing it for the right reasons, we'll totally support them."
Jonas brothers are not worried about Bieber's girl fan following as they too have their share of fan following. But this year, they experienced a decrease as far as their female fans are concerned after Joe had a break up with his actor and singer girlfriend Demi Lovato.
21 year old Joe says that though they are not dating each other but are still in good terms and are maintaining their friendship.