UK Today News: British Teen Tom Daley Wins Second Diving Gold At Commonwealth Games 2010

CWG 2010 – The 16 year old British dive sensation, Tom Daley, secured his second gold on Wednesday at the Commonwealth Games 2010 held in Delhi, India. He won the medal in the 10 metre platform event.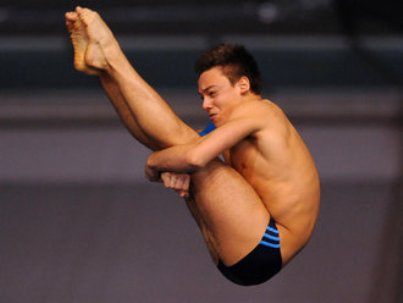 Daley said, "I'm just so happy to have won another gold – I know you're watching on TV, that was for you dad."
His father Rob Daley could not make it to India, after he was advised by his doctors not to do so. He is being treated for a tumor in his brain and reports say that there is a high risk of infection.
Tom's father said, "He always finds a way… bless him. He is very happy at home with the family. I told Tom to ring home if he won, before he went to the medal ceremony, and he did – he was absolutely thrilled. He was over the moon and he wanted to speak to me as quick as possible because he knew I couldn't be out there with him."
Rob, along with his wife Debbie, and children Liam and Ben, are enjoying the games on their television set, back home in Britain.