UK Today News: Aung San Suu Kyi's expected release sees thousands of NLD supporters outside her house

Burmese pro-democracy political activist Aung San Suu Kyi's much awaited release, has led to the gathering of more than 2000 of her supporters outside her house in Myanmar for a second day. Although it was earlier rumored that she would be released on Friday, her supporters have gathered again on Saturday near the headquarters of her party – the National League for Democracy (NLD).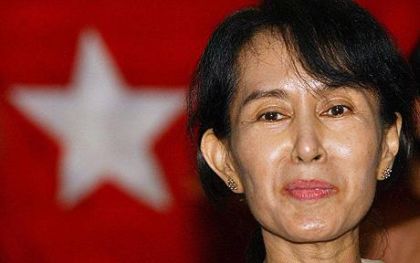 A file photo of Aung San Suu Kyi taken in 2002. (Photo Credit: STEPHEN SHAVER/AFP/Getty Images)

Reports state that Suu Kyi's house arrest is going to end officially on Saturday, but although Myanmar military officials say that she will be released soon, no date has been declared yet.
One of the officials stated, "The plan to release Suu Kyi is on, but the actual plan on the day of her release is not known yet." The official does not hold the authority to speak publically regarding the matter.
Suu Kyi is the recipient of the Nobel Peace Prize, which she received in the year 1991, besides a few others including the Jawaharlal Nehru Award for International Understanding, which was given to her by the Government of India. She has been placed under house arrest for around 14 years, in the past 20 years.