UK Today News: The stars of Harry Potter were called back to re-shoot some scenes of for Harry Potter and the Deathly Hallows: Part 2 movie. It was not long ago when British stars Daniel Radcliffe, Emma Watson and Rupert Grint were in tears on the final day of the shooting of the Harry Potter series, and now the three have to do a re-shoot.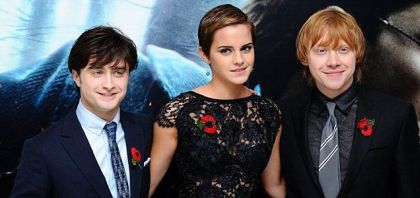 But Emma Watson seems to have a slight problem here — as soon as the shoot was finished, she badly wanted a makeover and had chopped off all her hair into a pixie crop in the month of August. "I needed a change, and that's what the haircut is about," Emma said.
The Harry Potter crew is now on it's toes to find a new wig that will best suit Emma in her Hermione role. The Twilight franchise had faced a similar situation during the shooting of Eclipse, after Kristen Stewart had chopped off her hair for a role in another film.
Last month, Daniel had confirmed the re-shooting of certain scenes of Deathly Hallows.