UK Today News: With Christmas 2010 just around the corner, NASA has said that for first time in 456 years, the winter solstice will coincide with the total lunar eclipse on Tuesday, December 21, 2010.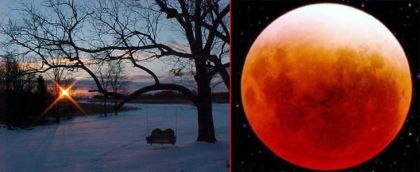 A solstice may be defined as an astronomical event, where the position of the sun either reaches its extreme northern side or the extreme southern side, twice a year.
The total lunar eclipse occurred overnight on Monday. Reports stated that snowfall in USA may continue for the next several days and could collect as much as 2 inches in grassy areas. Charlie Foley, a meteorologist of the National Weather Service in Taunton said, "We're getting a fringe effect. It may have big consequences for Downeast Maine and Nova Scotia, but more of a nuisance factor for us."
The feather forecast states that clear sunny weather is expected on Thursday, with a temperature of 36 degrees on Thursday and Friday. While Christmas is expected to be little cloudy on Saturday.