The 2010 Golden Globe Awards took place last night in Hollywood, and the event was star studded and glamorous – as usual.
Making a comeback was none other than "Titanic" Director James Cameron, whose movie "Avatar" was the show stealer for the night.
The blockbuster won the award for Best Film Drama, and Cameron won Best Director.
Other winners for the night were Sandra Bullock and Meryl Streep in the Best Actress category , while Robert Downey Jr and Jeff Bridges took home Best male actor awards.
British comedian Ricky Gervais was the host for the night.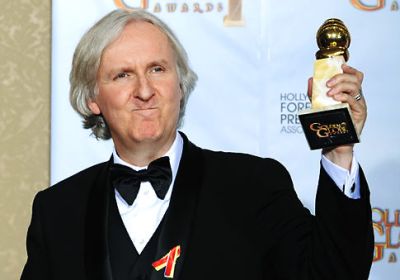 We have the full list of winners of the Golden Globe Awards 2010 right here:
Film:
Best Motion Picture (Drama) – Avatar
Best Actress (Drama) – Sandra Bullock, The Blind Side
Best Actor (Drama) – Jeff Bridges, Crazy Heart
Best Picture (Comedy or Musical) – The Hangover
Best Actress (Comedy or Musical) – Meryl Streep, Julie & Julia
Best Actor (Comedy or Musical) – Robert Downey Jr, Sherlock Holmes
Best Animated Feature – Up
Best Supporting Actress – Mo'Nique, Precious: Based on the Novel Push by Sapphire
Best Supporting Actor – Christoph Waltz, Inglourious Basterds
Best Director – James Cameron, Avatar
Best Original Song – The Weary Kind (Theme from Crazy Heart), Crazy Heart
Best Screenplay – Jason Reitman and Sheldon Turner, Up in the Air
Best Original Score – Michael Giacchino, Up
Best Foreign Language Film – The White Ribbon (Germany)
TV:
Best Television Series – Mad Men
Best Actress (Drama) – Julianna Margulies, The Good Wife
Best Actor (Drama) – Michael C Hall, Dexter
Best TV Series – Glee (Fox)
Best Actress (Comedy or Musical) – Toni Collette, United States of Tara
Best Actor (Comedy or Musical) – Alec Baldwin, 30 Rock
Best TV Mini-Series – Grey Gardens (HBO)
Best Actress (Mini-Series) – Drew Barrymore, Grey Gardens
Best Actor (Mini-Series) – Kevin Bacon, Taking Chance
Best Supporting Actress (Mini-Series) – Chloe Sevigny, Big Love
Best Supporting Actor (Mini-Series) – John Lithgow, Dexter
Cecil B DeMille award: Martin Scorsese