Black Friday sales opened early on November 23, 2012, with some companies opening shop at midnight, while others such as Toys R Us started their sales as early as 8 am. However, even 8 am seems late, as some shoppers were waiting in line since 6 am.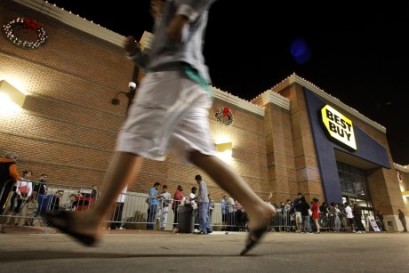 30-year-old Danielle Crews said that it is like a religion for her and she has been shopping on Black Friday for the past five years. JC Penney is one of the few departmental stores that is sticking to regular opening timings on Black Friday, despite pressure to open earlier. The reason behind this is so that the store maintains the tradition of Thanksgiving.
Karen Bowyer, the store leader explained, "We wanted to give back to America's traditional Thanksgiving holiday, which is allowing our customers and our team members the opportunity to really enjoy the day and enjoy family".
About 70 percent of the stores in Woodland Mall opened at midnight. Miki Hendrick of Sparta was among nearly 600 people who waited for JC Penney's store to open. However, he wasn't happy that the departmental store decided to wait. Even Woodland Mall spokesperson said that thousands of people packed into the mall at midnight itself, as they waited for sales to begin.