England have managed to outplay India in almost all departments of the game in the 2nd Test between the two countries, played between November 23, 2012 and November 26, 2012, in Mumbai, India. With the win, England square the series and send a clear message to India that they are here to compete at the highest level and will not be pushed over by Indian captain Mahindra Singh Dhoni's tactics of preparing spinner-friendly wickets.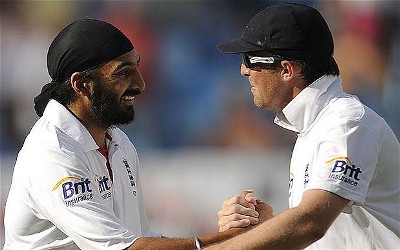 Photo Credit: The Telegraph
The man-of-the-match went to Kevin Pietersen with a powerful 186, supported by his skipper Alistair Cook's 122. However, it was Monty Panesar, the tireless off-break bowler who turned the match in England's favor. The spinner picked up 5/129 in the first innings and followed that up with 6/81 in the second; a truly match-winning performance.
Panesar was ably supported by Swan, who picked up 4/70 in the first innings and 4/43 in the second. With this exhibition of controlled, aggressive and targeted spin bowling, England have shown India that their ploy of preparing pitches to help their own bowlers is going to go against them. England have quality batsmen in Pietersen and Cook, along with Trott, Bairstow, Compton and company, they will feel confident going into the 3rd test on December 5, 2012.
For the Indians, questions will start to be asked of Sachin Tendulkar yet again, as the maestro continues to fail in Test cricket. He has scored a pair of 8's before being bowled by Panesar on both occasions. He is just a shadow of the batsman that took Shane Warne, one of the best spinners in history, to the cleaners in his prime. India will look to their younger batsmen in Pujara, Kohli and Yuvraj to dig them out of this mess in the 3rd Test.