Reality-TV stars J.P.Rosenbaum and Ashley Hebert got married on camera in Langham Huntington Hotel, Pasadena, California on December 17, 2012. This concluded their love story that started onscreen after meeting each other on the seventh episode of the show and getting engaged in the finale.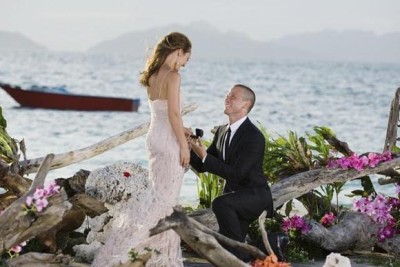 The very much in love couple, radiating with happiness, claimed that their love for each other is equally genuine as compared to those couples whose love stories are not filmed for the world to watch. They went on to say that their wedding was not a "circus".
The wedding ceremony was simple and serene, with the bride in a beautiful elaborate white dress making an elegant entry in the presence of friends and family. The bride and groom completed the festivities with a long lingering kiss, as they were pronounced man and wife.
Even the weather seemed to help the couple make the ceremony beautiful, as the rain stopped just in time before the open air ceremony could start. Apart from their family members, other Bachelor and Bachelorette stars like Emily Maynard, Jason and Molly Mesnick and Ryan and Trista Sutter also attended the wedding.
After the ceremony concluded there was a sit-down meal, followed by a tasty three flavored cake. The romantic vintage atmosphere was enlivened by music, where the couples partied for more than two hours and enjoyed themselves to the fullest.