Gangster Squad is a violent periodic melodrama set in the 1940's, depicting the eternal clash of L.A. mobsters and police, backed by a strong cast. The movie shows how an LAPD (Los Angeles Police Department) unit brought the deadliest of gangsters from California, Mickey Cohen, to his knees.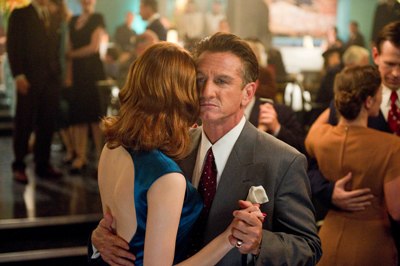 The cast is one of the strongest points that works for the hostile flick. The movie opens with Sean Penn as Cohen tearing a man into two by attaching him to two cars, pulling him in different directions. Penn plays the character of a homicidal maniac without any charisma, but the real character of Cohen was known to be a charming one who catered to celebrities, journalists and politicians.
Josh Brolin and Ryan Gosling play Sgt. John O'Mara and and Sgt Jerry Wooters respectively, part of the special squad that operated to stop Cohen from taking over the city. A romantic angle is added by Emma Stone, who plays Cohen's love interest Grace Faraday, who is eventually seduced by womanizer Gosling. The chemistry between Gosling and Stone is noteworthy in the otherwise incoherent screenplay and her change of heart from Cohen to Wooters built the much needed tension.
All the characters were one-dimensional; identifiable by a single predominant trait that gives very little opportunity to the seasoned actors to experiment. The imaginative and imposing barbarism in the movie was also not called for. The detailing to bring out the essence of the period looked overdone at times, but definitely succeeded in proving instant gratification. It would be a good watch, if you have some time to spare on your weekend.