One Direction's 3D movie 'This is Us' slated for release in August 2013, will have numerous shirtless scenes as revealed by the film's director Morgan Spurlock. Morgan reported that in an attempt to portray their wilder side he has captured a large number of shirtless moments with most of the band members.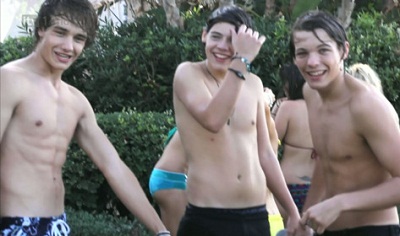 The movie could help the band of five get a nomination for 'Best Shirtless Performance' at the MTV movie awards 2014.
One Direction is currently doing shows in the O2 arena in London and they will be back in States in June 2013, they will also continue filming for their home video, which has been taking place for the last four months.  There will not only be shirtless scenes of the boys in the flick, but there will also be 3D shots of their hair, keeping in mind the popularity of their 'flowing locks' just like the hair flip scene of Justin Bieber that was in his 3D flick.
This year, the MTV movie awards will be held on April 14, 2013. The nominees for the golden popcorn's best shirtless performance are Daniel Craig in Skyfall, Christian Bale in The Dark Knight Rises, Seth McFarlane in Ted, Channing Tatum in Magic Mike and Taylor Lautner in Twilight Saga-Breaking Dawn Part 2.