The iPlayer app for Android has been updated by BBC and it will allow users to download TV shows for offline viewing. With the recent update, users of the app can store shows on their devices for up to 30 days and watch them for seven days after the first time they begin playing the video.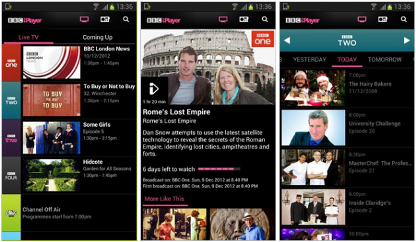 The new, updated BBC iPlayer Android application will appear on the Google Play Store later on September 5, 2013. In the upcoming days it will be updated on the Amazon App store as well. Users with devices running on the Ice Cream Sandwich and Jelly Bean versions of Google's Android software will be able to run the new feature.
David Berlin, the senior product manager for TV and iPlayer Mobile Applications at BBC Futuree Media said, "70 per cent of Android app users with compatible devices will be able to use this functionality from today – and over the coming months we will be extending this to include new Android devices as well as some older ones".
Berlin went on to say that they appreciate the frustration the Android community has been experiencing in the time it has taken to deliver the wanted feature. The BBC has constantly faced criticism from Android users since the time it added video downloads to the iOS iPlayer app in September 2012.
Photo Credits: Talk Android