As the post-Christmas sales begin in the UK, a huge number of shoppers queued on Thursday, December 26, 2013 in the morning in order to grab some of the best deals. Hundreds of bargain hunters were spotted hitting the streets of Preston on Boxing Day. With this in mind, the majority of stores in the city center, as well as retail parks opened their doors very early in the morning to welcome an overwhelming number of people looking for the best bargains.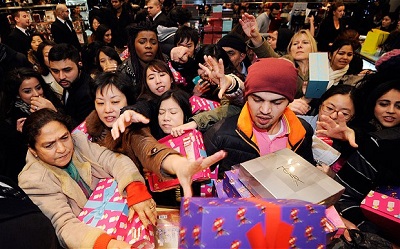 As stores reduced their prices significantly, Fishergate Shopping Center in Preston was filled with people carrying multiple bags. Even though a large number of stores had started their sales before Christmas or online, that did not stop bargain hunters from seeking out discounted goods.
Gemma Clarke and her mother Sue Smith were looking for good deals at the Capitol Center in Walton-le-Dale and Preston center. Gemma – who is due to give birth in February 2014 – said, "We went to Next at the Capitol Centre, we were going to get up early and go but we got there at about 8am. It was absolute mayhem, apparently people were queuing at 2.30pm. Then we came into Preston and went to Next here and Marks and Spencer. In Next everything was half price, it was mental you had to queue up for an hour just to pay."
Meanwhile, managers at Fishergate Shopping Center and St George's Shopping Center confirmed they had a lot of customers to serve, but were pleased with how everything was going when it comes to sales.
Photo Credits: Telegraph