The Top 24 finalists of American Idol Season 9 have finally been unveiled on Tuesday.
The good news was delivered to the 36 contestants by American Idol judges Simon Cowell, Randy Jackson, Kara DioGuardi and Ellen DeGeneres at the end of "Hollywood Week."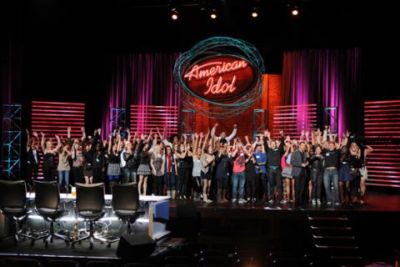 Some of the semifinalists revealed on Wednesday are Andrew Garcia, 24, Moreno Valley, Calif.; Tyler Grady, 20, Nazareth, Pa.; Alex Lambert, 19, North Richland Hills, Texas; Joe Munoz, 20, Huntington Park, Calif.; John Park, 21, Evanston, Ill.; and Jermaine Sellers, 27, Joliet, Ill.
24-year-old Janell Wheeler from Florida was the first contestant to get a spot in the Top 24 on Wednesday.
Among the girls, the semifinalists are "Crystal Bowersox, 24, Ohio; Lacey Brown, 24, Texas; Michelle Delamor, 22, Miami; Siobhan Magnus, 20, Mass.; Paige Miles, 24, Texas; Ashley Rodriguez, 22, Mass.; Lilly Scott, 20, Denver; Katie Stevens, 17, Middlebury, Conn.; and Haeley Vaughn, Colorado".
As per HP, the other semifinalists are "Didi Benami, 23, Los Angeles; Lee Dewyze, 23, Ill.; Katelyn Epperly, 19, West Des Moines, Iowa; Aaron Kelly, 16, Pa.; Casey James, 27, Texas; Todrick Hall, 24, Texas and Michael "Big Mike" Lynche, 26, N.Y" and 20 year old Tim Urban!
Looks like this season of American Idol is going to have some serious competition!