Legendary singer and song-writer John Lennon's manuscripts and drawings sold at an auction in New York.
Former Beatle John Lennon's manuscripts and drawings were auctioned at the famed Sotheby's in New York on May 3, 2014. The singer's Handwritten letters, notes, poems and sketches sold for whopping $2.9 million. The manuscripts and drawings were produced for two of his acclaimed books that he had written in the mid 1960s.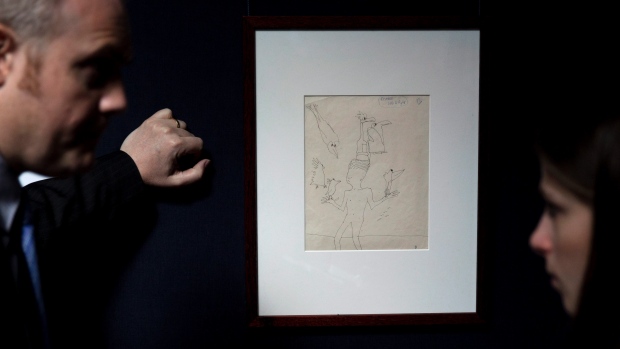 The buyers snapped all of the 89 lots in sale which were from two of Lennon's books – 'In His Own Write' (1964) and 'A Spaniard In The Works' (1965). The main attraction of the sale was 'The Singular Experience of Miss Anne Duffield' which was a manuscript for Lennon's parody of Sherlock Holmes from 'A Spaniard in the Works', it was sold for $209,000.
The Deputy director of Sotheby's books and manuscripts department in a statement said, "The outstanding result, the first white glove sale of 2014 at Sotheby's New York, shows that Lennon's nonsense verse, puns, wicked humor and comic drawings continue to resonate 50 years after the publication of 'In His Own Write' and "A Spaniard in the Works".
The auction items come just a little after 50 years of the Beatles appearing on the Ed Sullivan show in America. The other top grossing items included, 'The Fat Budgie' manuscript which sold for $143,000 and also an ink drawing of a guitar player which went for $137,000.
Photo Credits: CTV News