As the great war turns 100, William, Kate and Harry join world leaders at WWI memorial held in Belgium.
Marking the centenary anniversary of the bloodiest war this world has seen, dignitaries across Europe converged in Liege, Belgium for a twilight ceremony of remembrance. The occasion saw William, Kate and Harry join world leaders at WWI memorial, namely, King Philippe of Belgium, the French and German Presidents.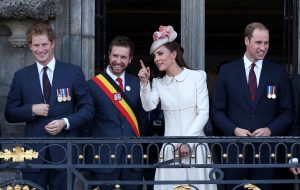 It was on August 4, 1914 that Britain declared war on Germany after its invasion of Belgium, which, incited by the assassination of the Archduke of Austria-Hungary, materialized into a global war responsible for the death of about 16 million people.
Addressing the gathering, Prince William asserted the fact that the people of Belgium had been one of the first victims of the war and that the country's sacrifice and contribution had been pivotal to eventual victory.
Referring to the recent events in Ukraine, he averred that despite the prevailing instabilities of the continent, war was now "unthinkable" between the former WWI enemies, as their representation at the ceremony bore testimony to the power of reconciliation.
Britain too is holding events across the UK and in the Belgian city of Mons, where the first British soldier died during in action.
British Prime Minister David Cameron stated that a hundred years ago Britain entered the First World War and now it was right that they were there to honor and remember all those who served and those who died, and to embed the lessons learnt for all eternity.
Photo Credits: Daily News